There are currently over two hundred unique entries in the Deschanel and Sullivan family trees, and these are only growing as Sarah learns and explores more about the families.
It's impossible to display the full trees due to size limitations, so she's tried to crop some of the relevant details in for readers. For those images where the items are more condensed, you can obtain a better view by opening the image in a new window.
Sullivan Heirs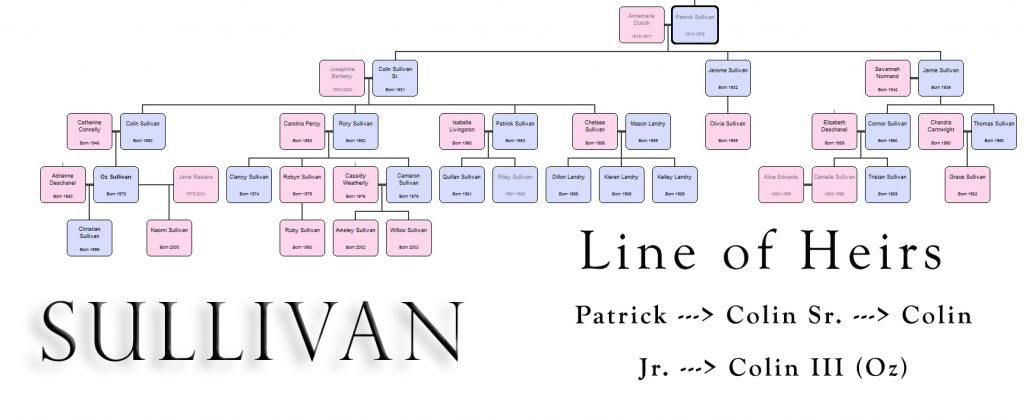 The above chart represents five generations of Sullivans. Many of the Sullivans have worked, or will work, for Sullivan & Associates, the venerable law firm that's been in the family since 1839. The Sullivans emigrated from Ireland in the early 19th century, and have been a stronghold in New Orleans ever since. The family motto, "Family Before All Else," is prevalent across the entire brood.
Deschanel Heirs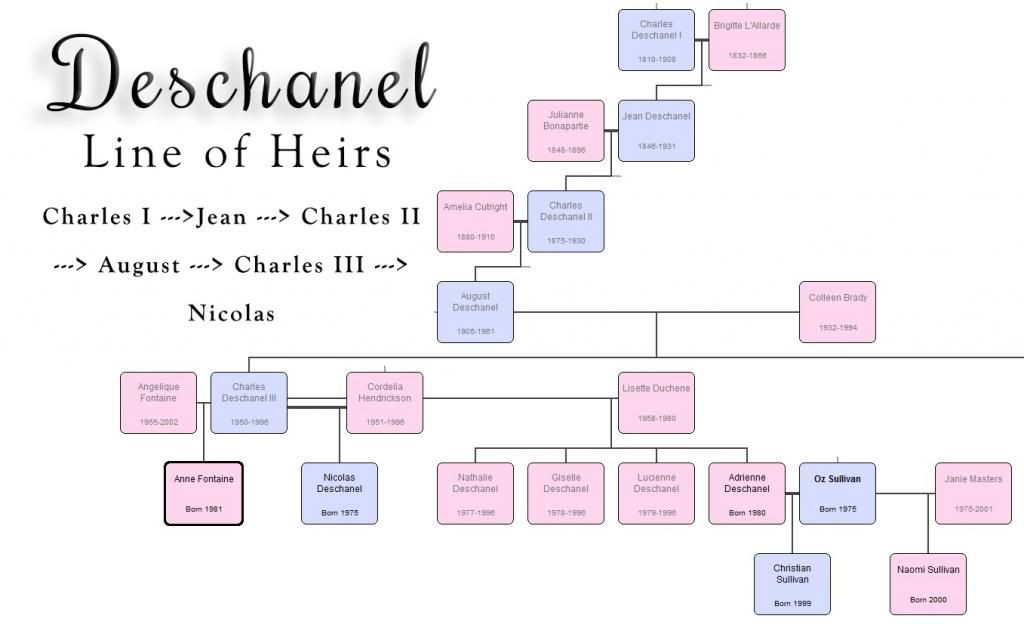 Deschanel records tell us that Charles I, and his wife Brigitte, emigrated to Louisiana from France just before the Civil War. The family thrived during the war due to some shrewd thinking on Charles' part, and the Deschanel wealth grew exponentially following. From Charles came his son Jean, and then Charles II. Charles II's only surviving son, August, became the patriarch of the modern day Deschanel clan. His son, Charles III, was the heir until his tragic accident in 1996, leaving his only son, Nicolas, as the current Deschanel heir.
Children of August
August Deschanel's first wife, Eliza Gass, was the great love of his life. Unfortunately, she died without issue and he remarried the young, Irish spitfire, Colleen Brady. Altogether, they produced seven children, five of whom survive today and make up the Deschanel clans. From oldest to youngest: Charles (d. 1996), Augustus, Colleen, Madeline (d. 1970), Evangeline, Maureen, & Elizabeth.
Charles' Line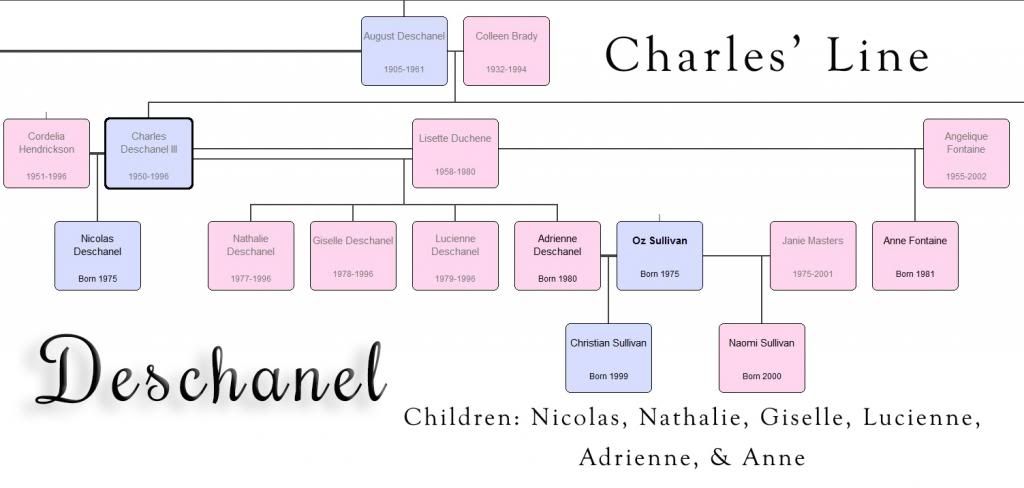 Charles Deschanel, the oldest son of August and the Deschanel heir, altogether birthed six children by three mothers. By his wife, Cordelia, he had Nicolas, who is the current heir of the Deschanel estate. While married to Cordelia, he had four children by his maid Lisette (Nathalie, Giselle, Lucienne, & Adrienne), and one by Angelique Fontaine (Anne). Charles, Cordelia, and three of the daughters all perished tragically in a car accident near Abbeville, LA, in 1996. Only one of his children, Adrienne, has produced children of their own.
Augustus' Line
Augustus Deschanel, the second son of August, was born with an incurable entrepreneurial spirit, which skyrocketed him to be the founder and CEO of the Deschanel Media Group. His business left little time for family, and he only fathered one daughter, Anasofiya, by his first wife, Ekatherina. After Ekatherina died, Augustus eventually remarried Barbara Chandler, but it was a relationship which produced no children. He has no grandchildren.
Colleen's Line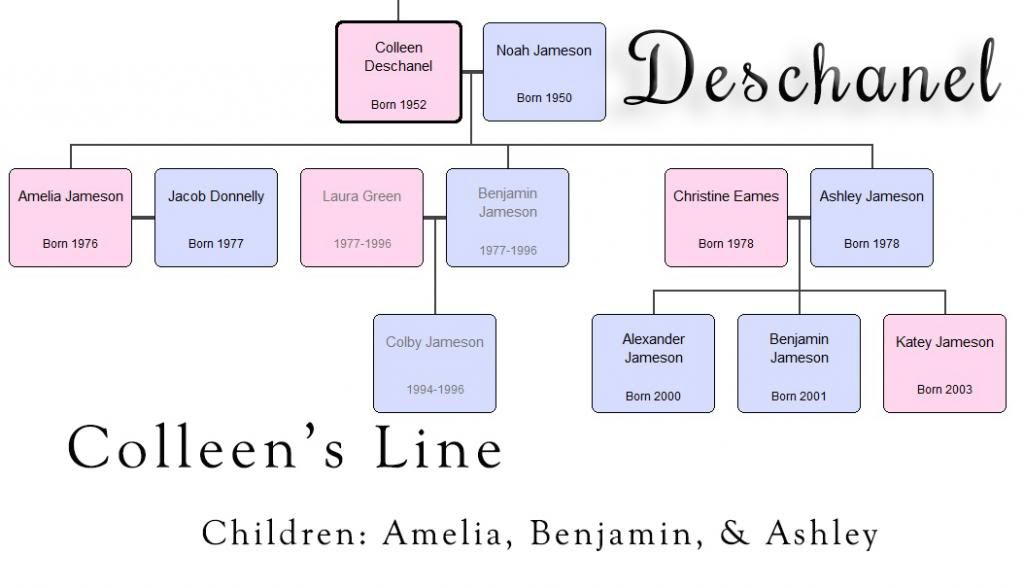 Colleen Deschanel is the third child, and eldest daughter, of August. She is the current Magistrate of the Deschanel Magi Collective, and considers herself the head of all Deschanel affairs. She had three children, Amelia, Benjamin, and Ashley, but Benjamin and his young family tragically perished in a house fire. Ashley and his wife Christine are the parents to Colleen's only grandchildren.
Madeline, Evangeline, Maureen, & Elizabeth
Madeline, Evangeline, Maureen, & Elizabeth are the final four daughters of August Deschanel. Madeline perished as a teenager, in a car accident. Evangeline grew up to be a research scientist marrying Swedish Johannes Gehring. They have two children, Markus and Katja. Maureen, unable to commit to any career, married the wealthy Edouard Blanchard, a man almost twenty years her senior, and produced two children, Olivia and Alain, before he died. The youngest of the sisters, Elizabeth, married into the Sullivan family and had two children of her own, Danielle and Tristan. Danielle passed away at the age of 14.
Deschanel Cousins- Guidrys, Fontenats, & Broussards
August had a single sister, Blanche, who went on to become the matriarch of the other half of the family. Her descendants include the Guidrys, Fontenats, and Broussards, all of whom are renowned in New Orleans for various reasons.
As with all content on www.sarahmcradit.com, this page and contents are copyright Sarah M. Cradit. All rights reserved.